Up to $10,000 Rebate on Eligible Fifth Wheels | Up to $1,000 Rebate on Eligible Cargo Trailers
May 15 Through June 30. Click here for more details.
You go where you want and bring what you want. We get that. ATC makes RVs and Trailers to haul any cargo, including your favorite toys and vehicles, with living space for you if you choose.
Our trailers and RVs are handcrafted by professionals and built to exacting standards of craftsmanship. Each is constructed with a fully integrated aluminum frame with no wood in the structure that can deteriorate, and they're fully welded with no fasteners to loosen over time. They're lighter, stronger and made smarter. Many models are designed so you can quickly convert and configure the interior based on your next activity or what you need right now.
ATC builds trailers to be stronger, last longer and go farther. Handcrafted in Indiana by people who take pride in everything they do, our trailers give you the peace of mind you need to haul your vehicles and cargo for decades to come.
We are a performance-oriented business, dedicated to building the most well-made trailers you can own. We understand that a good reputation is earned, based on the quality of each and every product we build.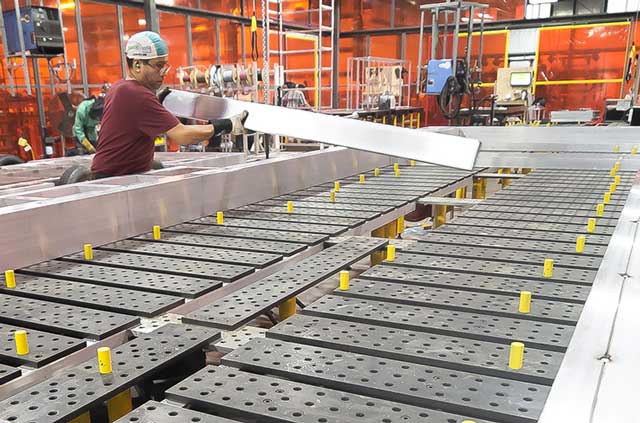 Modular, fixed weld tables allow us to achieve industry-leading framing precision. ATC makes the most structurally sound and high quality frame in the industry thanks to square front and integrated frame construction with advanced welding.
Our aluminum is pound for pound twice as strong as industry standard steel.
Tensile Strength:
Aluminum = 110ksi/lb vs. Steel = 58 ksi/lb
Because aluminum is lighter than steel, our trailers are easier to tow with less wear on your transmission. Fuel efficiency is increased and, in some cases, a smaller tow vehicle can be used.
Swag Store
Now Available Online